Join us for a FREE safety training session for contractors, landscapers, plumbers, home builders, utility workers and other professional excavators working in Wisconsin.
We will review damage prevention best practices and guidelines related to excavating near buried facilities and overhead lines. You will leave better prepared to work safely around underground utilities. Total run time is approximately 2 hours including a FREE meal and door prizes.
For questions relating to these meetings email Safety Meetings.

NEW in 2018: Select evening meetings have changed to a 4pm start time. Those meetings will start with the safety program and end with dinner. Verify your meeting start time on the list below.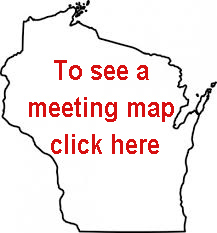 2018 EXCAVATOR SAFETY MEETING SCHEDULE:
| | | | | |
| --- | --- | --- | --- | --- |
| City | Date | Time | Venue | Address |
| Waukesha | Tue Jan 09 | 7am | Country Springs Hotel | 2810 Golf Rd |
| Waukesha | Wed Jan 10 | 7am | Country Springs Hotel | 2810 Golf Rd |
| Racine | Thu Jan 11 | 7am | Fountain Banquet Hall | 8505 Durand Ave |
| Elkhorn | Fri Jan 12 | 7am | Monte Carlo Room | 720 N Wisconsin St |
| Hubertus | Tue Jan 16 | 7am | The Sterling Chalet | 1271 Hwy 175 |
| Hubertus | Wed Jan 17 | 7am | The Sterling Chalet | 1271 Hwy 175 |
| Milwaukee | Thu Jan 18 | 7am | American Serb Hall | 5101 W Oklahoma Ave |
| Janesville | Fri Jan 19 | 7am | Holiday Inn Express - Janesville Conference Center | 3100 Wellington Pl |
| New Holstein | Mon Jan 22 | 4pm | Altona Supper Club | 2306 Calumet Dr |
| Fond du Lac | Tue Jan 23 | 7am | Holiday Inn - Fond du Lac | 625 W Rolling Meadows Dr |
| Oshkosh | Tue Jan 23 | 5pm | La Sure's Hall | 3125 S Washburn St |
| Kohler | Wed Jan 24 | 4pm | The Village at 170 / Range Line Inn | 170 Range Line Rd |
| Monroe | Tue Jan 30 | 7am | Peppercorn Banquets at Ludlow Mansion | 1421 Mansion Dr |
| Middleton | Wed Jan 31 | 7am | Marriott Madison West | 1313 John Q Hammons Dr |
| Wisconsin Dells | Thu Feb 01 | 7am | Wilderness Territory - Glacier Canyon Lodge | 45 Hillman Rd |
| Juneau | Thu Feb 01 | 4pm | Juneau Community Center | 500 Lincoln Dr |
| Black Creek | Tue Feb 06 | 7am | Romy's Nitingale | W5670 Cty Rd A |
| Black Creek | Tue Feb 06 | 4pm | Romy's Nitingale | W5670 Cty Rd A |
| Denmark | Wed Feb 07 | 5pm | Beverly Gardens | 5911 Pine Grove Rd |
| Manitowoc | Thu Feb 08 | 5pm | Twin Fountains Banquet Hall | 7330 English Lake Rd |
| Lancaster | Tue Feb 13 | 7am | St. Clement Parish | 333 W Cherry St |
| Prairie du Chien | Wed Feb 14 | 7am | Huckleberry's Restaurant | 1916 S Marquette Rd |
| Richland Center | Thu Feb 15 | 7am | White House Ramada Inn | 1450 Veterans Dr |
| Sturgeon Bay | Tue Feb 20 | 5pm | Stone Harbor Resort | 107 N 1st Ave |
| Green Bay | Wed Feb 21 | 7am | Stadium View Banquet Hall | 1963 Holmgren Way |
| Green Bay | Wed Feb 21 | 5pm | Stadium View Banquet Hall | 1963 Holmgren Way |
| Marinette | Thu Feb 22 | 4pm | Little River Country Club | N2235 Shore Dr |
| Viroqua | Tue Feb 27 | 7am | VFW | 715 S Washington St |
| La Crosse | Tue Feb 27 | 4pm | Days Inn La Crosse Conference Center | 101 Sky Harbour Dr |
| Arcadia | Wed Feb 28 | 7am | Arcadia Country Club | 340 Golf Lane |
| Merrillan | Thu Mar 01 | 7am | Castle Hill Supper Club | N9581 US Hwy 12 |
| Tomah | Fri Mar 02 | 7am | Cranberry Country Lodge | Hwy 21 & I94 |
| Marshfield | Mon Mar 05 | 4pm | Holiday Inn - Marshfield | 750 S Central Ave |
| Stevens Point | Tue Mar 06 | 7am | Holiday Inn - Stevens Point | 1001 Amber Ave |
| Wisconsin Rapids | Tue Mar 06 | 4pm | The Ridges Golf Course | 2311 Griffith Ave |
| Waupaca | Wed Mar 07 | 7am | Waupaca Ale House | 201 Fox Fire Dr |
| Wabeno | Tue Mar 13 | 7am | Potawatomi Carter Casino & Hotel | 618 WI-32 |
| Antigo | Tue Mar 13 | 5pm | North Star Lanes | 400 Prosser Place |
| Wausau | Wed Mar 14 | 7am | Mountain Bay Banquet Center at Dale's Weston Lanes | 5902 Schofield Ave |
| Wautoma | Wed Mar 14 | 5pm | WWII Memorial Hall | 440 W Main St |
| New Richmond | Mon Mar 19 | 4pm | Ready Randy's | 1490 131st Street |
| River Falls | Tue Mar 20 | 7am | Kilkarney Hills Golf Club | 163 Radio Rd |
| Amery | Tue Mar 20 | 4pm | Cricket's Bar & Grill | 1361 100th St/Cty Rd H |
| Eau Claire | Wed Mar 21 | 7am | The Florian Gardens | 2340 Lorch Ave |
| Menomonie | Wed Mar 21 | 4pm | Stout Ale House/Off Broadway Banquet Center | 1501 North Broadway |
| Fifield | Mon Mar 26 | 5pm | Northwoods Supper Club | N14066 Flambeau Ave |
| Rhinelander | Tue Mar 27 | 7am | Hodag Banquet Center | 1540 Pueblo Dr |
| Ironwood | Tue Mar 27 | 5pm | Gogebic Community College - Lindquist Center | E4946 Jackson Rd |
| Minocqua | Wed Mar 28 | 7am | Reuland's Conference Center | 630 Chippewa St |
| Medford | Wed Mar 28 | 4pm | Simek Recreation Center | 1037 W Broadway Ave |
| Rice Lake | Tue Apr 03 | 7am | Turtleback Golf & Convention Center | 1985 W Allen Rd |
| Ladysmith | Tue Apr 03 | 5pm | JS Supper Club (Formerly known as Club 8) | W9594 US Hwy 8 |
| Ashland | Wed Apr 04 | 5pm | AmericInn Conference Center | 3009 Lakeshore Dr East |
| Superior | Thu Apr 05 | 7am | Barkers Island Inn | 300 Marina Dr |
| Hayward | Thu Apr 05 | 4pm | The Steakhouse & Lodge | 15860 T-Bone Lane |