Who we are…



Diggers Hotline was established in 1976 to increase worker and public safety, prevent damage to underground and overhead facilities, protect the environment and to help ensure continuity of utility and communication services. Wisconsin's one-call center has helped millions of callers obtain information on the location of underground facilities and safe working distances from overhead lines.
Our employees…
Diggers Hotline strives to accommodate a work-life balance for its employees by offering a wide variety of shifts, time off requests, shift trades, schedule trades, and voluntary time off.
Our team-oriented atmosphere is fostered by a welcoming attitude and coworker support throughout the year.
We support and promote an environment that is positive and engaging by focusing on employee success through recognition and feedback. Performance-based rewards are given for attendance and quality.
Our staff is provided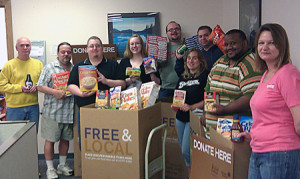 with the training necessary to succeed. Once employees have graduated from
the five-week training class, it is followed by ongoing coaching and mentoring to reinforce established procedures.
Opportunities for advancement exist at Diggers Hotline. We strive to promote qualified employees from within the organization to fill roles such as Trainers & Coaches, for example. Seasonal employees also have the opportunity to be hired to fill open year-round positions.
We show appreciation of our staff by organizing and supporting numerous employee activities including an onsite picnic, potlucks, Customer Service Week activities, annual food drive for Hunger Task Force, wellness initiatives that include presentations and onsite flu shot clinic.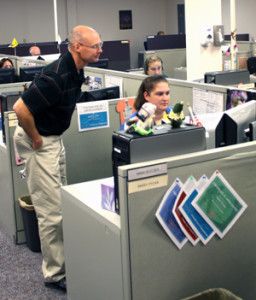 Our staff is engaged in a dynamic work environment that is demanding of quality while being fast-paced. Our Busy Season begins in March and stretches into October, with our primary months consisting of April, May, & June.
Having been nominated for the Journal Sentinel's list of "Top Workplaces", Diggers Hotline is proud of what our employees think about working here:
Anthony: "I like that everyone gets along. There is no drama at least not with me, Everyone is super helpful if you have any questions. They really make you feel welcomed as the new person in the group, Also I like talking to different people throughout the day, it provides a different challenge every time the phone rings, I like being kept on my toes. Plus I really like knowing that I am helping someone."


Turquoise: "I like the customer service aspect. I like that I can provide a service for people without bringing the issue of money into it. It may sound dorky but I am really proud of myself when I figure out a difficult ticket or help someone who feels unsure of the process. I also really enjoy the general sense of camaraderie amongst my coworkers. There really is a sense of "we're all in this together" here. And Customer Service Week is really fun!"


Krystal: "Everyone is very kind and welcoming, right from the very beginning. The overall atmosphere is wonderful. The benefits and pay are a million times better than every place I've worked at before. I can come to anyone with questions or concerns. I have a voice here. It's not far from where I live. It's a family, not a job. I love it here."


Tanya: "Working with this company for eight years has introduced me to many different things. Whether it be growing as an individual, meeting new people through the job itself or the callers; I enjoy Diggers Hotline repetition and also its challenges. I love the diversity of working with new people every day I am here. This job also continues to keep my creative side flowing so I am still able to use a talent I'm strong in."


Mike: "The good people on the team, the flexibility of the schedule and the wonderful benefits."


David: "One of the things I like best about working here is that I feel pride in what I do. I feel that Diggers Hotline offers a valuable service to contractors, homeowners, and the utilities. I feel as though what I do matters and that is important to me. I also feel
it necessary to mention that I feel like Diggers Hotline is a great place to work because of those I get to work with. Everyone here is great and I feel that everyone is treated with dignity and respect."
Kassie: "I like the overall culture and environment at the call center best about working here. Specifically, the co-workers are enjoyable to be around, the leadership team is organized and communicates well to staff, everyone is patient with new employees and willing to help, the training prepares you to be completely comfortable in performing the job tasks and the encouragement/incentive systems that have been set up for a job well done are appreciated. Overall, it is a pleasant place to come to each day."


Nick: "The atmosphere here is nice. And everyone that works here is friendly and outgoing!"


Andy: "One of the things that I like most about working at Diggers Hotline is that every call is a chance to learn something new. You can either learn a new location in the state that you never heard of or you can learn a new type of work that requires calling us. Every phone call we answer is a chance to learn something."


Stephanie: "What I enjoy most about working at Diggers Hotline is the opportunity to assist our callers, I truly enjoy helping people. Second and just as important, I like coming to work because of the people I work with, from management to my peers, they all make it such a pleasant place to work. I feel I receive all the support that I could ever ask for and the positive, as well as constructive feedback, is wonderful!"


Stephanie: "I like the friendly atmosphere, someone is always around to help you if you need it. I also enjoy the flexibility with my work schedule and my two kids."


Spencer: "I feel confident in my ability to do a good job all the time, our jobs feel important & I love the family-like environment."


Chris: "My favorite aspect is the people. Everybody (supervisors, co-workers, and managers alike) treats me like a real human being. I know that sounds weird, but given my history of previous employment, I've never been treated to such a high degree. Giving praise and rewarding outstanding behavior is just as important as quality work here. This is why I enjoy it here so much. "


John: "I like working here because I feel like I am part of something important to our community, and its safety. Also, I feel truly cared about here."


Jennifer: "I like the feeling that I am making a difference in helping to promote safety."


Michele: "I enjoy every aspect of working here. The atmosphere is wonderful, all who work here are very friendly and always available to be of assistance if/when needed. The recognition for a job well done is something I have never experienced in any other place I have worked, be it a call center or retail store. It is a joy to work here."